There is so much to do in Crawford County! This beautiful area is full of hidden gems and parks to explore. My favorite memories from my visit were definitely the birding, landscape photography and unexpected finds.
Birding and Landscape Photography
My top birding areas in Crawford County were Linesville Spillway at Pymatuning State Park and Erie National Wildlife Refuge. These are also amazing spots to snap some landscape photos.
Linesville Spillway is particularly popular with waterfowl, herons and birds of prey because of the habitat and plentiful fish population. On a slow walk around the edge of the water I was able to see and hear songbirds along with the herons, ducks and osprey.
This area also offers incredible opportunities for sunset photography. I had a fantastic view from the Pymatuning State Park Linesville Campground. There are some amazing spots by the water to camp and watch the lake.
Erie National Wildlife Refuge is a must for bird nerds. Tsuga Trail is the perfect birding location because it covers so many different landscapes. Eastern wood-pewees were plentiful in the forest, song sparrows sing in the fields and the marsh areas provide habitat for a variety of species.
The refuge and Tsuga Trail are also ideal for landscape photography – the trail goes through so many vastly different and stunning areas. The grove of towering pines had to be my favorite.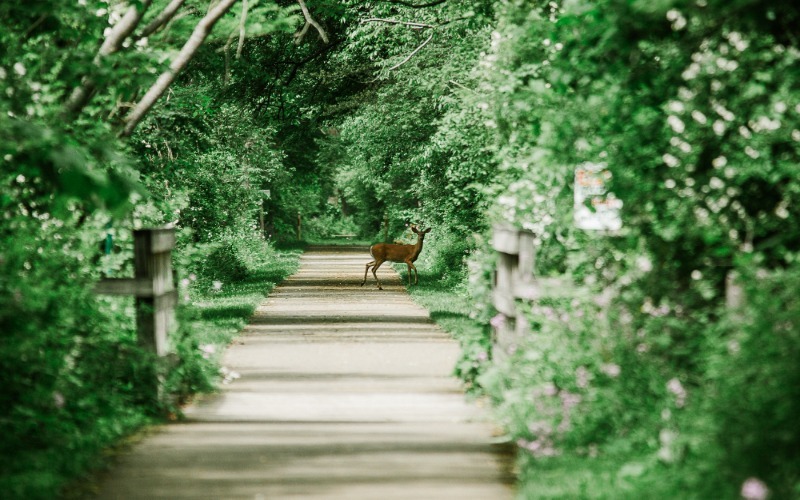 Hidden Gems
Greendale Cemetery is a great hidden gem for wildlife and photography. Not everyone thinks of cemeteries as a must-see, but they have a lot to offer. The rhododendrons are stunning when in bloom and the ravine that runs through the middle of the cemetery is a great spot to look for wildlife or simply enjoy the sounds of nature. Keep an eye out for deer! If you're looking for a quiet, beautiful and peaceful place to spend a few hours this is definitely for you.
Though many people know about Ernst Trail, it might not be the first place that comes to mind for nature and wildlife photography. The five miles of paved trail is great for exercise. If you slow down and take your time, this is definitely a hidden gem for landscapes and wildlife. Look for warblers in the spring, quaint bridges along the path, flowers, birds and deer.
Grab your binoculars and your camera and head to Crawford County! Blog post by Hannah Brenner
Hannah is a travel, wildlife and environmental sustainability influencer who spends weekends camping in her renovated van across the country. She loves to share her passion for the environment, birds and travel experiences in a variety of multimedia formats on social media and blogs.