When you hear the word hiking, it can be easy to imagine places like Yellowstone, the Lewis and Clark National Trail, or even more locally, the Great Allegheny Passage. However, hiking doesn't have to be an enormous voyage.
By taking advantage of local trails, hiking can be a great, inexpensive way to discover the beauty of your "local wilderness." It's also a wonderful way to introduce kids to nature and the great outdoors, or even mix-up your dog walking routine.
Here in Crawford county, several trails fit the needs of hikers of all experience levels. We've compiled a few of our favorite local trails for you to enjoy.
Pymatuning State Park – Linesville
Featuring seven trails of various difficulty levels, Pymatuning State Park is a real hiking gem. The Spillway Trail specifically is great for a casual walk or bike. Photography enthusiasts will find that the sunsets on this path are breathtaking. Bird watchers can see numerous duck species, swans, grebes, and even the occasional eagle. The Spillway trail is 2.5 miles long. Those looking for a more challenging hike can try the Log Cabin Trail which begins at the Tamarack trailhead and proceeds to the right, running behind the Jamestown cabins and ending at the Jamestown campground. This trail is about a mile long.
French Creek Recreational Trails (Ernst Trail) – Meadville
French Creek Recreational trail (known locally as Ernst Trail), is located in the lush French Creek valley and is one of the most geographically interesting in the area. The paved portion of this trail is just about 5 miles long making it ideal for low impact walks, runs, and biking. The full trail is just over 7 miles. Originally built in the 1880s and 90s to gain access to the Meadville-Linesville Railroad, the trail is dotted with meadows, marshes, and hemlock thickets. Photographers can also find beautiful outgrowths of wildflowers. Several bird species also nest along these trails making them great for bird watchers.
This trail is not a loop, however, so plan to double back to the trailhead you started at!
Trolley Line Trail – Cambridge Springs
The Trolley Line Trail is a great choice for history aficionados and outdoor adventurers alike. The out-and-back trail follows a historic rail line constructed in 1913 to bridge Cambridge Springs and Titusville, but was never completed. Mostly flat, the round trip 3.5 mile trek is perfect for a low-challenge, relaxing walk.
Wooden foot-bridges and an old stone tunnel (or culvert for those versed in trains) are certainly highlights and make for great picture opportunities. On your visit, you'll even traverse an archaeological site! There is no shortage of natural beauty to appreciate on this trail either, it's dotted with wildflowers and surrounded by lush greenery. A portion of it is marsh-y, so be prepared to brave some wet areas!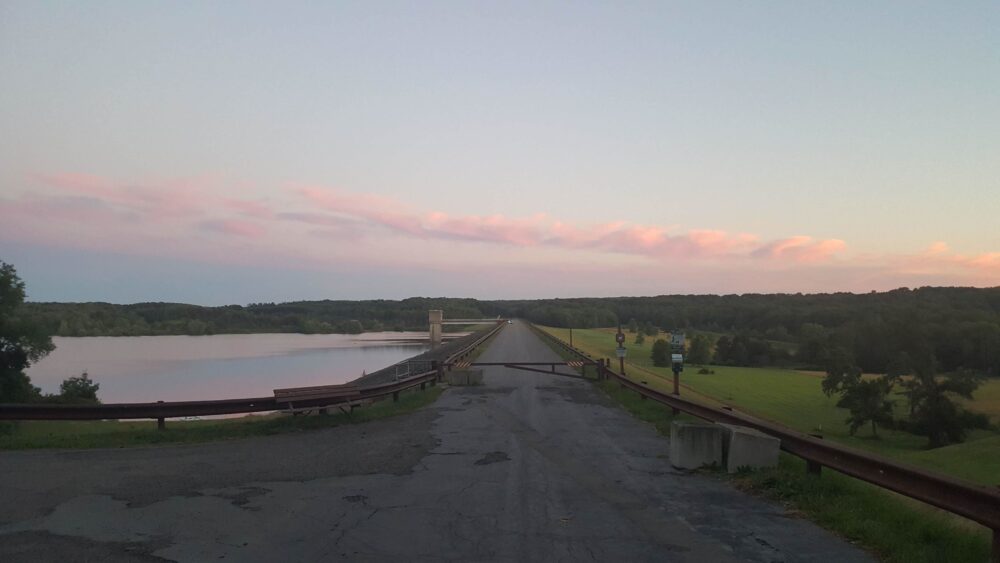 Woodcock Dam & Trail – Saegertown
Walk out-and-back on the breezy Woodcock Dam to enjoy a beautiful lake view on one side and rolling hills on the other. The Dam is 1.8 miles long one way, totally flat, and paved; ideal for a short but picturesque walk. Sitting areas overlooking the water are perfect for relaxing and enjoying sunsets.
If you reach the end of the Dam, still ready for more, you can follow an unpaved offshoot with a few branches leading to Woodcock Lake Park and campground. A small stream runs through the wooded area along these offshoots, and wooden foot-bridges punctuate the path. From the Dam to the end of the offshoot is just shy of 2 miles, with some elevation but relatively low-impact. Don't forget to allow plenty of time to get back to your starting point!
East Branch Trail – Spartansburg
East Branch Trail is an out-and-back rail trail with room for walkers, runners and bicyclists. Paved, with gentle elevation only and just over 6 miles long one way, this path is great for a long walk or moderate bike ride. While you stroll or bike, take in the sights of Clear Lake and even explore the rebuilt trestle. This quiet trail is definitely a hidden treasure.
While you're in the area, be sure to stop at Clear Lake Park and hit Spartansburg's charming downtown to say hi!
These trails are somewhat secluded, so plan to be safely off the paths by dusk. Additionally, it's always a good idea to bring along a bottle of water to keep from getting dehydrated.
Enjoy these paths and form a connection with the flora and fauna of Crawford County. Interested in more outdoor adventures? Click here to explore other activities.